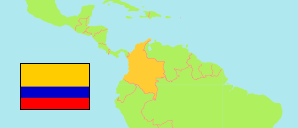 Granada
Municipality in Colombia
Contents:

Population

The population development of Granada as well as related information and services (Wikipedia, Google, images).
Name
Status
Population
Estimate
2005-06-30
Population
Estimate
2010-06-30
Population
Estimate
2015-06-30
Population
Projection
2020-06-30

Granada

Municipality
6,916
7,259
7,142
7,931
Colombia
Republic
41,927,699
44,349,775
46,431,100
50,372,424
Source: Departamento Administrativo Nacional de Estadistica, Republica de Columbia (web).
Explanation: All population figures consider the result of the 2018 census. Area figures are derived from geospatial data.
---
Further information about the population structure:
Gender (P 2020)
Males
3,950
Females
3,981
Age Groups (P 2020)
0-14 years
2,074
15-64 years
5,187
65+ years
670
Age Distribution (P 2020)
0-9 years
1,385
10-19 years
1,362
20-29 years
1,250
30-39 years
1,153
40-49 years
913
50-59 years
876
60-69 years
562
70-79 years
280
80-89 years
109
90+ years
41
Clustering (P 2020)
in municipal capital
2,140
outside of municipal capital
5,791
---