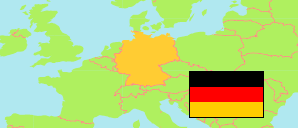 Rotenburg a. d. Fulda
in Hersfeld-Rotenburg (Hesse)
Contents:

City

The population development of Rotenburg a. d. Fulda as well as related information and services (weather, Wikipedia, Google, images).
Source: Statistisches Bundesamt Deutschland (web).
Explanation: Population estimates after 2011 are based on the results of the 2011 census. Communes and counties within the boundaries of 31 December 2021.
---
Further information about the population structure:
Gender (E 2021)
Males
6,822
Females
7,026
Age Groups (E 2021)
0-17 years
2,320
18-64 years
8,172
65+ years
3,356
Age Distribution (E 2021)
0-14 years
1,918
15-29 years
2,105
30-44 years
2,508
45-59 years
2,879
75+ years
1,692
Citizenship (C 2011)
Germany
12,978
Austria
15
Croatia
15
Greece
11
Italy
45
Poland
47
Russia
15
Turkey
78
Europe (other)
129
Africa
21
America
15
Asia
41
Country of Birth (C 2011)
Germany
11,308
EU 27
502
Europe (other)
740
Other country
562
Unknown
298
Religion (C 2011)
Roman Catholic
1,565
Protestant
8,572
Other/No/Unknown
3,273
---