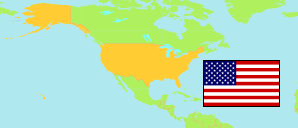 New York
in Queens / Richmond / Kings / Bronx / New York (New York)
Contents:

City

The population development of New York as well as related information and services (weather, Wikipedia, Google, images).
Name
County
Population
Census
1990-04-01
Population
Census
2000-04-01
Population
Census
2010-04-01
Population
Census
2020-04-01
Population
Estimate
2021-07-01
New York
Queens / Richmond / Kings / Bronx / New York
7,322,564
8,009,185
8,174,930
8,804,190
8,467,513
→
Source: U.S. Census Bureau (web).
Explanation: Latest available rebased population figures are used. In case of significant changes, they were recalculated by using census block data.
---
Further information about the population structure:
Gender (C 2010)
Males
3,882,544
Females
4,292,589
Age Groups (C 2010)
0-17 years
1,768,111
18-64 years
5,413,864
65+ years
993,158
Age Distribution (C 2010)
0-9 years
990,883
10-19 years
1,003,987
20-29 years
1,372,775
30-39 years
1,249,662
40-49 years
1,132,972
50-59 years
1,017,219
60-69 years
711,644
70-79 years
412,313
80+ years
283,678
»Race« (C 2020)
White
3,000,945
Black/African American
1,943,645
Indigenous
86,218
Asian
1,385,144
Pacific Islander
6,874
Some other
1,494,267
2 or more
887,097
Ethnicity (C 2020)
Hispanic or Latino
2,490,350
Other
6,313,840
---