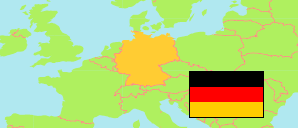 Norden
in Niedersachsen (Census Population)
Contents:

City

The population development of Norden as well as related information and services (weather, Wikipedia, Google, images).
Source: Amtliches Gemeindeverzeichnis für die Bundesrepublik Deutschland, Ausgabe 1987; Statistisches Bundesamt Deutschland (web).
For cities in the former German Democratic Republic, only in few cases comparable older population figures are available; in those cases, the census population of January 1971 and end-of-2006 population estimates are tabulated taken from »Statistisches Jahrbuch der Deutschen Demokratischen Republik« and »Statistisches Landesamt des Freistaates Sachsen«.
Explanation: Communes and states within the boundaries of 31 December 2021.
---
Further information about the population structure:
Gender (E 2021)
Males
12,074
Females
12,781
Age Groups (E 2021)
0-17 years
3,780
18-64 years
13,810
65+ years
7,265
Age Distribution (E 2021)
0-14 years
3,067
15-29 years
3,595
30-44 years
3,405
45-59 years
5,457
75+ years
3,375
Citizenship (C 2011)
Germany
24,281
Austria
18
Croatia
7
Greece
9
Italy
42
Poland
36
Russia
40
Turkey
79
Europe (other)
246
Africa
16
America
21
Asia
282
Other
25
Country of Birth (C 2011)
Germany
22,615
EU 27
496
Europe (other)
771
Other country
859
Unknown
362
Religion (C 2011)
Roman Catholic
2,080
Protestant
15,557
Other/No/Unknown
7,466
---