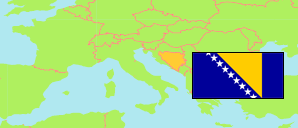 Gacko
Municipality in Serb Republic
Municipality
The population development of Gacko.
Contents:

Settlements

The population development of the settlements in Gacko.

The
icon links to further information about a selected place including its population structure (gender, age groups, age distribution, ethnic group).
Source: Republika Srpska Institute of Statistics (web). Ethnic groups: Bosnia and Herzegovina Agency for Statistics (web).
Explanation: In case of the 2013 figures, the usually resident population is tabulated. In contrast, the ethnic group figures include also citizens of Bosnia and Herzegovina living and working abroad for many years.