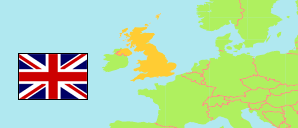 Torfaen
Unitary District in Wales / Cymru
Unitary District
The population development of Torfaen.
Contents:

Settlements

The population development of the settlements in Torfaen.
Name
Status
County / District
Population
Census
2001-04-29
Population
Census
2011-03-27
Population
Estimate
2020-06-30
Abersychan
Built-up Area Subdivision
Torfaen
7,173
7,573
7,904
→
Blaenavon
Built-up Area
Torfaen
5,321
5,647
6,072
→
Cwmbran
Built-up Area Subdivision
Torfaen
47,580
46,915
48,890
→
Pontypool
Built-up Area Subdivision
Torfaen
28,270
28,334
29,401
→
Source: UK Office for National Statistics (web).
Explanation: All population figures and depicted boundaries are based on output areas officially assigned to the 2011 built-up areas. Output areas often include some unbuilt parts. However, tabulated area figures refer to (typically smaller) actual built-up areas in order to present a more realistic population density. Some of the 2001 figures are approximate values.