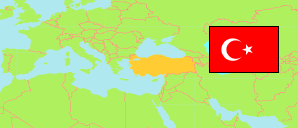 Etimesgut
District in Ankara
District
The population development of Etimesgut.
Name
Status
Population
Estimate
2009-12-31
Population
Estimate
2013-12-31
Population
Estimate
2017-12-31
Population
Estimate
2021-12-31
Etimesgut
District
347,267
469,626
566,500
606,472
→

Ankara

Metropolitan Province
4,650,802
5,045,083
5,445,026
5,747,325
Contents:

Cities, Towns and Villages

The population development of the cities, towns and villages in Etimesgut.
Source: State Institute of Statistics, Republic of Turkey (web).
Explanation: Since 2013, the population figures of cities in metropolitan provinces are calculated by using the population of selected neighborhoods.