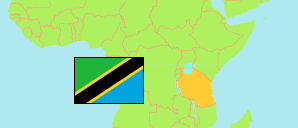 Shinyanga Rural
District in Tanzania
Contents:

Population

The population development of Shinyanga Rural as well as related information and services (Wikipedia, Google, images).
Name
Status
Population
Census
1988-08-27
Population
Census
2002-08-01
Population
Census
2012-08-26
Population
Census
2022-08-23

Shinyanga Rural

District
212,847
276,393
334,417
468,611
Tanzania
United Republic
23,174,336
34,443,603
44,928,923
61,741,120
Source: National Bureau of Statistics Tanzania.
Explanation: Area figures of districts are calculated from geospatial data.
---
Further information about the population structure:
Gender (C 2022)
Males
232,524
Females
236,087
Urbanization (C 2022)
Rural
451,886
Urban
16,725
Age Groups (C 2022)
0-14 years
221,732
15-64 years
231,286
65+ years
15,593
Age Distribution (C 2022)
0-9 years
154,447
10-19 years
117,357
20-29 years
75,758
30-39 years
47,272
40-49 years
30,675
50-59 years
20,147
60-69 years
11,763
70-79 years
6,799
80+ years
4,393
---