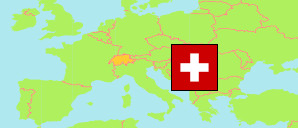 La Chaux-de-Fonds - Le Locle
Agglomeration Core in Switzerland
Contents:

Population

The population development of La Chaux-de-Fonds - Le Locle as well as related information and services (Wikipedia, Google, images).
Source: Swiss Federal Statistical Office (web).
Explanation: Boundaries of agglomeration and urban cores according to the 2012 definition without parts outside of Switzerland. The population figures for 2022 are preliminary.
---
Further information about the population structure:
Gender (E 2021)
Males
23,192
Females
24,297
Age Groups (E 2021)
0-17 years
8,589
18-64 years
29,485
65+ years
9,415
Age Distribution (E 2021)
0-9 years
4,610
10-19 years
5,087
20-29 years
6,011
30-39 years
6,107
40-49 years
6,335
50-59 years
7,034
60-69 years
5,172
70-79 years
4,107
80-89 years
2,344
90+ years
682
Citizenship (E 2021)
Switzerland
33,365
Germany
64
France
1,712
Italy
2,013
Portugal
4,921
EU (others)
1,407
Europe (non-EU countries)
1,251
Africa
1,593
Asia
848
Other country
303
Country of Birth (E 2021)
Switzerland
30,985
Other country
16,504
---