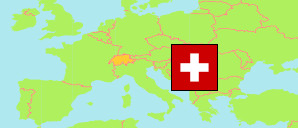 La Chaux-de-Fonds - Le Locle
Agglomeration in Switzerland
Contents:

Population

The population development of La Chaux-de-Fonds - Le Locle as well as related information and services (Wikipedia, Google, images).
Source: Swiss Federal Statistical Office (web).
Explanation: Boundaries of agglomerations (core and belt) according to the 2012 definition without parts outside of Switzerland. The population figures for 2020 are final.
---
Further information about the population structure:
Gender (E 2020)
Males
24,613
Females
25,805
Age Groups (E 2020)
0-17 years
9,299
18-64 years
31,293
65+ years
9,826
Age Distribution (E 2020)
0-9 years
4,970
10-19 years
5,485
20-29 years
6,370
30-39 years
6,491
40-49 years
6,761
50-59 years
7,434
60-69 years
5,429
70-79 years
4,335
80-89 years
2,433
90+ years
710
Nationality (E 2020)
Switzerland
36,034
Germany
69
France
1,751
Italy
2,097
Portugal
5,071
ex-Yugoslavia
796
Europe (other)
1,840
Africa
1,597
Asia
853
Other country
310
Country of Birth (E 2020)
Switzerland
33,555
Other country
16,863
---