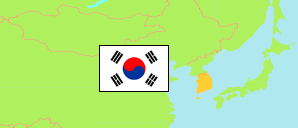 Unbong
(South Korea)
Contents:

Town

The population development of Unbong as well as related information and services (weather, Wikipedia, Google, images).
Source: National Statistical Office of the Republic of Korea (web), Ministry of the Interior: Resident registration demographics (web), Korea Immigration Service (web).
Explanation: The tabulated population figures consist of Koreans registered as resident and of resident foreigners. Since 2017, the number of foreigners has been derived from figures for larger administrative units.
---
Further information about the population structure:
Gender (Koreans) (E 2019)
Males
1,881
Females
2,046
Age Groups (Koreans) (E 2019)
0-14 years
248
15-64 years
2,160
65+ years
1,519
Age Distribution (Koreans) (E 2019)
0-9 years
164
10-19 years
231
20-29 years
284
30-39 years
225
40-49 years
367
50-59 years
736
60-69 years
773
70-79 years
620
80-89 years
451
90+ years
76
Nationality (E 2019)
Korea
3,927
Other nationality
49
---