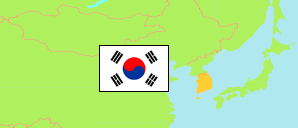 Seoul
(South Korea)
Metropolitan City
The population development of Seoul.
Name
Native
Status
Population
Estimate
2009-12-31
Population
Estimate
2013-12-31
Population
Estimate
2017-12-31
Population
Estimate
2019-12-31
Seoul

서울특별시

Metropolitan City
10,464,051
10,388,055
10,124,579
10,010,983
→

Daehan Minguk

[

South Korea

]

대한민국

Republic
50,643,781
52,127,386
52,950,306
53,121,668
Contents:

Urban Areas and Towns

The population development of the urban areas and towns in Seoul.
Source: National Statistical Office of the Republic of Korea (web), Ministry of the Interior: Resident registration demographics (web), Korea Immigration Service (web).
Explanation: The tabulated population figures consist of Koreans registered as resident and of resident foreigners. Since 2017, the number of foreigners has been derived from figures for larger administrative units.