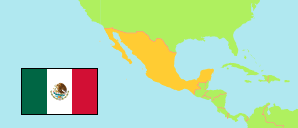 Ignacio Zaragoza
Municipality in Chihuahua
Municipality
The population development of Ignacio Zaragoza.
Name
Status
Population
Census
2000-02-14
Population
Census
2005-10-17
Population
Census
2010-05-31
Population
Census
2020-03-15
Ignacio Zaragoza
Municipality
7,832
6,631
6,934
5,196
→

Chihuahua

State
3,052,907
3,241,444
3,406,465
3,741,869
Contents:

Localities

The population development of the localities in Ignacio Zaragoza.
Source: Instituto Nacional de Estadística Geografía e Informática, México (web).
Explanation: The tabulated population figures take into account amalgamations of localities.