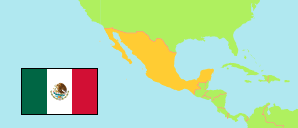 Mazapa de Madero
Municipality in Chiapas
Municipality
The population development of Mazapa de Madero.
Name
Status
Population
Census
2000-02-14
Population
Census
2005-10-17
Population
Census
2010-05-31
Population
Census
2020-03-15
Mazapa de Madero
Municipality
7,180
6,845
7,793
7,901
→

Chiapas

State
3,920,892
4,293,459
4,796,580
5,543,828
Contents:

Localities

The population development of the localities in Mazapa de Madero.
Source: Instituto Nacional de Estadística Geografía e Informática, México (web).
Explanation: The tabulated population figures take into account amalgamations of localities.