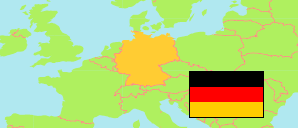 Rothenburgsort
Quarter in Hamburg
Contents:

Population

The population development of Rothenburgsort as well as related information and services (Wikipedia, Google, images).
Name
Status
Population
Estimate
2002-12-31
Population
Estimate
2007-12-31
Population
Estimate
2012-12-31
Population
Estimate
2018-12-31

Rothenburgsort

Quarter
8,197
8,870
8,876
9,268
Hamburg
City
1,728,806
1,770,629
1,775,659
1,891,810
Source: Statistisches Amt für Hamburg und Schleswig-Holstein (web).
Explanation: The tabulated population figures report the registered population and not the resident population. Thus, there are discrepancies compared to other pages on this website.
---
Further information about the population structure:
Gender (E 2018)
Males
4,924
Females
4,344
Age Groups (E 2018)
0-17 years
1,592
18-64 years
6,351
65+ years
1,325
---