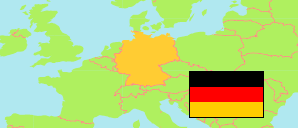 Innere Altstadt
Quarter in Dresden
Contents:

Population

The population development of Innere Altstadt as well as related information and services (Wikipedia, Google, images).
Name
Status
Population
Estimate
1990-12-31
Population
Estimate
2000-12-31
Population
Estimate
2010-12-31
Population
Estimate
2015-12-31
Population
Estimate
2018-12-31

Innere Altstadt

[

Innner Old Town

]
Quarter
1,915
1,506
1,661
1,704
1,718
Dresden
City
510,065
472,350
517,168
548,800
560,641
Source: Kommunale Statistikstelle der Landeshauptstadt Dresden (web).
Explanation: The tabulated population figures report the registered population and not the resident population. Thus, there are discrepancies compared to other pages on this website.
---
Further information about the population structure:
Citizenship (E 2018)
Germany
1,406
Other
312
---