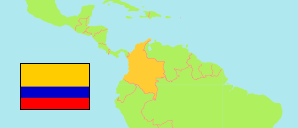 Manaure Balcón del Cesar
in Manaure Balcón del Cesar (Cesar)
Contents:

Capital

The population development of Manaure Balcón del Cesar as well as related information and services (weather, Wikipedia, Google, images).
Source: Departamento Administrativo Nacional de Estadistica, Republica de Columbia (web).
Explanation: In constrast to municipalities and their capitals, the population figures of population centers are not adjusted for underenumeration.
---
Further information about the population structure:
Gender (C 2018)
Males
4,120
Females
4,269
Age Groups (C 2018)
0-14 years
2,320
15-64 years
5,168
65+ years
595
Age Distribution (C 2018)
0-9 years
1,477
10-19 years
1,721
20-29 years
1,412
30-39 years
1,055
40-49 years
840
50-59 years
723
60-69 years
469
70-79 years
249
80-89 years
116
90+ years
21
---