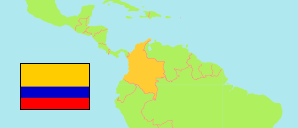 La Jagua de Ibirico
Municipality in Cesar
Municipality
The population development of La Jagua de Ibirico.
Contents:

Urban Localities

The population development of the urban localities in La Jagua de Ibirico.
Source: Departamento Administrativo Nacional de Estadistica, Republica de Columbia (web).
Explanation: In constrast to municipalities and their capitals, the population figures of population centers are not adjusted for underenumeration.