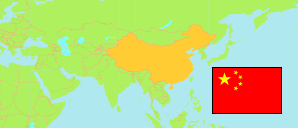 Zhènxióng Xiàn
County in Yúnnán
Contents:

Population

The population development of Zhènxióng Xiàn as well as related information and services (Wikipedia, Google, images).
Name
Status
Native
Population
Census
2000-11-01
Population
Census
2010-11-01
Population
Estimate
2018-12-31

Zhènxióng Xiàn

County

镇雄县

1,097,093
1,328,371
1,424,100
Yúnnán
Province

云南省

42,360,089
45,966,766
48,295,000
Source: China National Bureau of Statistics (web).
Explanation: The population changes are partly result of boundary changes. Status and division as of 2018, as far as sufficient information is available.
---
Further information about the population structure:
Gender (C 2010)
Males
696,342
Females
632,029
Urbanization (C 2010)
Rural
1,119,161
Urban
209,210
Age Groups (C 2010)
0-14 years
395,447
15-64 years
849,638
65+ years
83,286
Age Distribution (C 2010)
0-9 years
226,253
10-19 years
316,105
20-29 years
233,721
30-39 years
196,218
40-49 years
151,764
50-59 years
87,669
60-69 years
61,633
70-79 years
41,533
80+ years
13,475
Generations in Household (C 2010)
1
50,576
2
200,505
3
49,421
4+
1,785
---