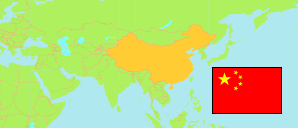 Guāndù Qū
District in Yúnnán
Contents:

Population

The population development of Guāndù Qū as well as related information and services (Wikipedia, Google, images).
Name
Status
Native
Population
Census
2000-11-01
Population
Census
2010-11-01
Population
Census
2020-11-01

Guāndù Qū

District

官渡区

1,398,305
853,371
1,602,279
Yúnnán
Province

云南省

42,360,089
45,966,766
47,209,277
Source: China National Bureau of Statistics (web), Yunnan Provincial Bureau of Statistics (web), Bureaus of Statistics in Yunnan (web).
Explanation: Status and division as of 2020, as far as sufficient information is available.
---
Further information about the population structure:
Gender (C 2020)
Males
854,060
Females
748,219
Urbanization (C 2020)
Rural
12,846
Urban
1,589,433
Age Groups (C 2020)
0-14 years
241,839
15-64 years
1,242,810
65+ years
117,630
Age Distribution (C 2020)
0-9 years
179,306
10-19 years
133,536
20-29 years
318,422
30-39 years
327,867
40-49 years
275,955
50-59 years
200,686
60-69 years
95,769
70-79 years
47,502
80+ years
23,236
---