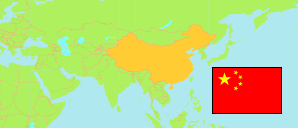 Wēishān Yízú Huízú Zìzhìxiàn
Autonomous County in Yúnnán
Contents:

Population

The population development of Wēishān Yízú Huízú Zìzhìxiàn as well as related information and services (Wikipedia, Google, images).
Source: China National Bureau of Statistics (web).
Explanation: The population changes are partly result of boundary changes. Status and division as of 2018, as far as sufficient information is available.
---
Further information about the population structure:
Gender (C 2010)
Males
153,317
Females
151,051
Urbanization (C 2010)
Rural
249,164
Urban
55,204
Age Groups (C 2010)
0-14 years
63,691
15-64 years
217,546
65+ years
23,131
Age Distribution (C 2010)
0-9 years
38,525
10-19 years
46,927
20-29 years
44,951
30-39 years
58,878
40-49 years
51,510
50-59 years
29,777
60-69 years
19,714
70-79 years
10,616
80+ years
3,470
Generations in Household (C 2010)
1
11,003
2
39,249
3
27,064
4+
1,568
---