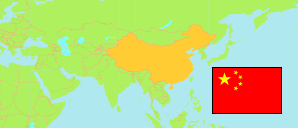 Dōngchāngfŭ Qū
District in Shāndōng
Contents:

Population

The population development of Dōngchāngfŭ Qū as well as related information and services (Wikipedia, Google, images).
Name
Status
Native
Population
Census
2000-11-01
Population
Census
2010-11-01
Population
Census
2020-11-01

Dōngchāngfŭ Qū

[

incl. Liáochéng Development Zone, Liáochéng High-tech Zone, Resort

]
District

东昌府区

950,319
1,229,768
1,488,905
Shāndōng
Province

山东省

89,971,789
95,792,719
101,527,453
Source: China National Bureau of Statistics (web), Bureaus of Statistics in Shandong Province (web).
Explanation: Status and division as of 2020, as far as sufficient information is available. Area figures are computed by using geospatial data.
---
Further information about the population structure:
Gender (C 2010)
Males
625,296
Females
604,472
Urbanization (C 2010)
Rural
623,402
Urban
606,366
Age Groups (C 2010)
0-14 years
211,808
15-64 years
920,146
65+ years
97,814
Age Distribution (C 2010)
0-9 years
156,655
10-19 years
123,828
20-29 years
264,964
30-39 years
192,331
40-49 years
202,597
50-59 years
138,962
60-69 years
85,413
70-79 years
47,893
80+ years
17,125
Generations in Household (C 2010)
1
114,085
2
210,268
3
49,355
4+
1,766
---