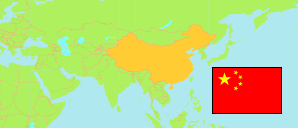 Fēnglín Xiàn
County in Hēilóngjiāng
Contents:

Population

The population development of Fēnglín Xiàn as well as related information and services (Wikipedia, Google, images).
Name
Status
Native
Population
Census
2000-11-01
Population
Census
2010-11-01
Population
Census
2020-11-01

Fēnglín Xiàn

[

incl. Xīnqīng Qū, Wŭyíng Qū, Hóngxīng Qū

]
County

丰林县

117,048
98,894
62,214
Hēilóngjiāng
Province

黑龙江省

36,237,576
38,313,991
31,850,088
Source: China National Bureau of Statistics (web), Heilongjiang Bureau of Statistics (web).
Explanation: Status and division as of 2020, as far as sufficient information is available. Area figures are computed by using geospatial data. Sōnglĭng Qū and Jiāgédáqí Qū are districts in Inner Mongolia that are managed by Hēilóngjiāng.
---
Further information about the population structure:
Gender (C 2020)
Males
31,202
Females
31,012
Urbanization (C 2020)
Rural
3,562
Urban
58,652
Age Groups (C 2020)
0-14 years
3,300
15-64 years
46,560
65+ years
12,354
Age Distribution (C 2020)
0-9 years
2,030
10-19 years
2,169
20-29 years
4,337
30-39 years
5,473
40-49 years
11,210
50-59 years
19,072
60-69 years
9,677
70-79 years
4,878
80+ years
3,368
---