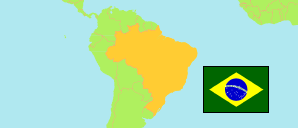 Manaus
in Manaus (Amazonas)
Contents:

Municipal District

The population development of Manaus as well as related information and services (weather, Wikipedia, Google, images).
Source: Instituto Brasileiro de Geografia e Estatistica (web).
Explanation: In the table above, the urban population of municipal districts is presented. The latest population of municipal districts is calculated by »City Population« using their 2010 census population and official latest estimates for the total municipalities. The area depicted in the map refers to the total territory of the municipal district including rural parts.
---
Further information about the population structure:
Gender (C 2010)
Males
879,742
Females
922,272
Age Groups (C 2010)
0-14 years
508,962
15-59 years
1,184,971
60+ years
108,081
Age Distribution (C 2010)
0-9 years
328,431
10-19 years
356,046
20-29 years
365,847
30-39 years
306,638
40-49 years
207,900
50-59 years
129,071
60-69 years
63,695
70+ years
44,386
Urbanization (C 2010)
Rural
9,133
Urban
1,792,881
Literacy (A10+) (C 2010)
yes
1,417,941
no
55,642
---