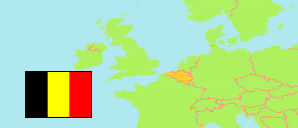 Liège
Agglomeration in Belgium
Contents:

Population

The population development of Liège as well as related information and services (Wikipedia, Google, images).
Source: Statistics Belgium (web).
Explanation: Agglomerations as defined by L. Vanderstraeten and E. Van Hecke in: "Les régions urbaines en Belgique", Belgeo, 1/2019, DOI: 10.4000/belgeo.32246 (without banlieues and outer zones, but with the southeast extension of Brussels).
---
Further information about the population structure:
Gender (E 2021)
Males
244,015
Females
256,024
Age Groups (E 2021)
0-17 years
102,413
18-64 years
303,051
65+ years
94,575
Age Distribution (E 2021)
0-9 years
56,681
10-19 years
57,033
20-29 years
65,216
30-39 years
68,179
40-49 years
63,274
50-59 years
64,119
60-69 years
58,278
70-79 years
40,438
80-89 years
21,934
90+ years
4,887
Nationality (E 2021)
Belgium
424,573
EU 27 (w/o UK)
43,407
Europe (other)
3,155
Asia
9,495
Africa
17,036
Other / Unknown Nationality
2,373
---