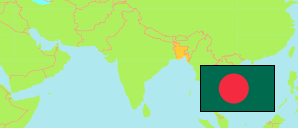 Mongla
Municipality in Khulna Municipal Division
Contents:

Population

The population development of Mongla as well as related information and services (Wikipedia, Google, images).
Source: Bangladesh Bureau of Statistics (web).
Explanation: Unions and most municipalities in the boundaries of 2011. Districts and some fused municipalities in 2020 boundaries. Some area figures of union councils and municipalities are derived from geospatial data.
---
Further information about the population structure:
Gender (C 2011)
males
21,607
females
18,230
Urbanization (C 2011)
Urban
39,837
---