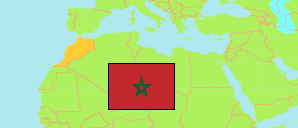 Sidi Bennour
Province in Morocco
Contents:

Population

The population development of Sidi Bennour as well as related information and services (Wikipedia, Google, images).

Source: Haut Commissariat au Plan, Royaume du Maroc (web).

Explanation: Area figures are computed from geospatial data. Some population changes between 2004 and 2014 are due to boundary changes that are not considered by map, area figures and former population figures.
---
Further information about the population structure:
Gender (C 2014)
Males
229,023
Females
223,425
Age Groups (C 2014)
0-14 years
142,214
15-64 years
279,988
65+ years
30,246
Age Distribution (C 2014)
0-9 years
94,107
10-19 years
91,974
20-29 years
72,177
30-39 years
61,300
40-49 years
47,024
50-59 years
39,996
60-69 years
23,898
70+ years
21,972
Urbanization (C 2014)
Rural
366,766
Urban
85,682
Nationality (C 2014)
Morocco
452,358
Other country
90
Literacy (A10+) (C 2014)
yes
281,142
no
171,306
Marital Status (C 2014)
Single
243,728
Married
183,922
Divorced/Widowed
24,798
---