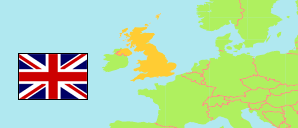 Quarrier's Village
in Inverclyde (Scotland)
Contents:

Locality

The population development of Quarrier's Village as well as related information and services (weather, Wikipedia, Google, images).
Source: General Records of Scotland (web).
Explanation: Localities according to the definition of 2016. 2001 and 2011 figures are approximate values calculated by »City Population« using the population of output areas.
---
Further information about the population structure:
Gender (E 2016)
Males
345
Females
385
Age Groups (E 2016)
0-15 years
96
16-64 years
452
65+ years
182
Age Distribution (E 2016)
0-9 years
48
10-19 years
73
20-29 years
48
30-39 years
74
40-49 years
107
50-59 years
141
60-69 years
101
70-79 years
67
80+ years
71
Nationality (C 2011)
British only
657
British and other
1
Other only
12
Country of Birth (C 2011)
Scotland
540
UK (other)
92
EU
9
Other country
29
Ethnic Group (C 2011)
White
653
Asian
15
Mixed/multiple
2
Religion (C 2011)
Church of Scotland
251
Roman Catholic
99
Christian (other)
43
Muslim
5
Other religion
4
No religion
202
Language at Home (C 2011)
English
639
Scots
2
British Sign Language
1
Other language
17
---