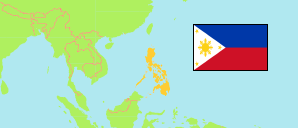 Zamboanga
City in Mindanao
Contents:

Population

The population development of Zamboanga as well as related information and services (Wikipedia, Google, images).
Name
Status
Population
Census
1990-05-01
Population
Census
2000-05-01
Population
Census
2010-05-01
Population
Census
2015-08-01

Zamboanga

City
442,345
601,794
807,129
861,799
Mindanao
Island Group
14,298,764
18,133,864
21,968,174
24,135,775
Source: National Statistics Office of the Philippines (web), National Statistical Coordination Board (web).
Explanation: Area figures are computed by using geospatial data.
---
Further information about the population structure:
Gender (C 2015)
Males
432,677
Females
429,122
Age Groups (C 2015)
0-14 years
279,764
15-64 years
548,744
65+ years
33,291
Age Distribution (C 2015)
0-9 years
189,264
10-19 years
185,216
20-29 years
157,296
30-39 years
117,903
40-49 years
92,614
50-59 years
63,953
60-69 years
36,826
70-79 years
13,919
80+ years
4,808
---