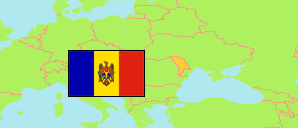 Copceac
Commune-level Village in Moldova
Contents:

Population

The population development of Copceac as well as related information and services (Wikipedia, Google, images).

Source: Departamentul Statistica si Sociologie al Republicii Moldova (web).

Explanation: The 2014 figures are adjusted for underenumeration. Furthermore, they include 209,030 persons absent from Moldova for more than 12 months. Area figures of communes are computed using geospatial data.
---
Further information about the population structure:
Gender (C 2014)
Males
4,527
Females
4,611
Age Groups (C 2014)
0-14 years
1,822
15-64 years
6,636
65+ years
680
Age Distribution (C 2014)
0-9 years
1,253
10-19 years
1,267
20-29 years
1,928
30-39 years
1,299
40-49 years
1,102
50-59 years
1,161
60-69 years
626
70-79 years
332
80+ years
170
Urbanization (C 2014)
Rural
9,138
Country of Birth (C 2014)
Moldova
8,971
CIS
149
Other country
14
Ethnic Group (C 2014)
Moldovans
94
Ukrainians
38
Russians
96
Gagauzians
8,737
Bulgarians
132
Romani
21
Other ethnic groups
17
Native Language (C 2014)
Moldovan
75
Ukrainian
24
Russian
156
Gagauzian
8,726
Bulgarian
107
Romani
14
Other language
12
Religion (C 2014)
Orthodox
8,528
Other religion
273
---