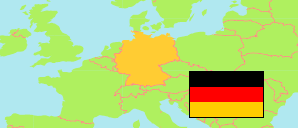 Königsberg i. Bay.
in Haßberge (Bavaria)
Contents:

City

The population development of Königsberg i. Bay. as well as related information and services (weather, Wikipedia, Google, images).
Source: Statistisches Bundesamt Deutschland (web).
Explanation: Population estimates after 2011 are based on the results of the 2011 census. Communes and counties within the boundaries of 31 December 2019.
---
Further information about the population structure:
Gender (E 2018)
Males
1,820
Females
1,818
Age Groups (E 2018)
0-17 years
564
18-64 years
2,294
65+ years
780
Age Distribution (E 2018)
0-14 years
449
15-29 years
594
30-44 years
607
45-59 years
913
60-74 years
686
75+ years
389
Nationality (C 2011)
Germany
3,645
Austria
6
Italy
3
Poland
3
Russia
3
Europe (other)
31
America
12
Country of Birth (C 2011)
Germany
3,480
EU 27
128
Europe (other)
21
Other country
31
Unknown
43
Religion (C 2011)
Roman Catholic
1,131
Protestant
2,184
Other/No/Unknown
388
---