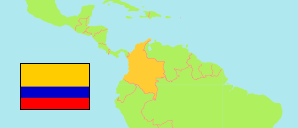 La Mesa
Municipality in Colombia
Contents:

Population

The population development of La Mesa as well as related information and services (Wikipedia, Google, images).
Name
Status
Population
Estimate
2005-06-30
Population
Estimate
2010-06-30
Population
Estimate
2015-06-30
Population
Projection
2020-06-30

La Mesa

Municipality
27,248
29,431
29,387
36,129
Colombia
Republic
41,927,699
44,349,775
46,431,100
50,372,424
Source: Departamento Administrativo Nacional de Estadistica, Republica de Columbia (web).
Explanation: All population figures consider the result of the 2018 census. Area figures are derived from geospatial data.
---
Further information about the population structure:
Gender (P 2020)
Males
18,175
Females
17,954
Age Groups (P 2020)
0-14 years
7,233
15-64 years
22,735
65+ years
6,161
Age Distribution (P 2020)
0-9 years
4,797
10-19 years
4,875
20-29 years
4,755
30-39 years
4,594
40-49 years
4,204
50-59 years
4,546
60-69 years
4,112
70-79 years
2,726
80-89 years
1,183
90+ years
337
Clustering (P 2020)
in municipal capital
19,641
outside of municipal capital
16,488
---