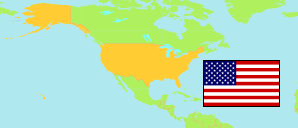 Palm Coast - Daytona Beach - Port Orange
(USA)
Contents:

Urbanized Area

The population development of Palm Coast - Daytona Beach - Port Orange as well as related information and services (weather, Wikipedia, Google, images).
Source: U.S. Census Bureau (web).
Explanation: Urbanized areas and urban clusters are defined every 10 years using the previous census results; no later official population estimates are available.
---
Further information about the population structure:
Gender (C 2010)
Males
168,877
Females
180,187
Age Groups (C 2010)
0-17 years
59,875
18-64 years
204,016
65+ years
85,173
Age Distribution (C 2010)
0-9 years
31,464
10-19 years
37,793
20-29 years
38,333
30-39 years
33,429
40-49 years
43,695
50-59 years
51,703
60-69 years
51,818
70-79 years
36,498
80+ years
24,331
»Race« (C 2010)
White
289,059
Black/African American
41,182
Indigenous
1,058
Asian
6,553
Pacific Islander
157
Some other
4,290
2 or more
6,765
Ethnicity (C 2010)
Hispanic or Latino
19,916
Other
329,148
---