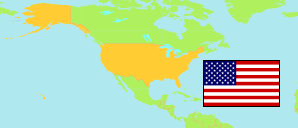 Fort Leonard Wood - St. Robert - Waynesville
(USA)
Contents:

Urban Area

The population development of Fort Leonard Wood - St. Robert - Waynesville as well as related information and services (weather, Wikipedia, Google, images).
Source: U.S. Census Bureau (web).
Explanation: Urban areas are defined every 10 years using the previous census results; no later official population estimates are available.
---
Further information about the population structure:
Gender (C 2010)
Males
17,874
Females
11,383
Age Groups (C 2010)
0-17 years
6,213
18-64 years
21,926
65+ years
1,118
Age Distribution (C 2010)
0-9 years
3,879
10-19 years
6,001
20-29 years
10,053
30-39 years
3,913
40-49 years
2,319
50-59 years
1,488
60-69 years
887
70-79 years
462
80+ years
255
»Race« (C 2010)
White
20,261
Black/African American
4,917
Indigenous
262
Asian
1,017
Pacific Islander
228
Some other
929
2 or more
1,643
Ethnicity (C 2010)
Hispanic or Latino
3,483
Other
25,774
---