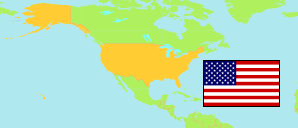 State College - DuBois
Combined Statistical Area in USA
Contents:

Population

The population development of State College - DuBois as well as related information and services (Wikipedia, Google, images).
Source: U.S. Census Bureau (web).
Explanation: All statistical areas as defined in March 2020 by the OMB Bulletin No. 20-01. Area and total population figures for areas in Connecticut are based on planning regions.
---
Further information about the population structure:
Gender (C 2020)
Males
124,454
Females
114,280
Age Groups (C 2020)
0-17 years
38,347
18-64 years
158,973
65+ years
41,414
Age Distribution (C 2020)
0-9 years
20,424
10-19 years
25,562
20-29 years
54,891
30-39 years
27,324
40-49 years
25,208
50-59 years
29,277
60-69 years
27,514
70-79 years
17,898
80+ years
10,636
Urbanization (C 2020)
Rural
104,197
Urban
134,537
»Race« (C 2020)
White
206,305
Black/African American
7,382
Indigenous
284
Asian
11,854
Pacific Islander
45
Some other
2,616
2 or more
10,248
Ethnicity (C 2020)
Hispanic or Latino
8,288
Other
230,446
---