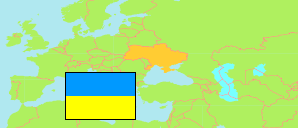 Avdiïvka
in Pokrovs'kyj rajon (Donetsk)
Contents:

City

The population development of Avdiïvka as well as related information and services (weather, Wikipedia, Google, images).
Source: State Statistics Committee of Ukraine (web), pop-stat.mashke.org.
Explanation: The 2020 population in Donetsk oblast and Luhansk oblast were calculated by the Ukrainian statistical office "according to the available administrative data". The reliability is ambiguous.
---