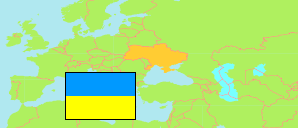 Krasnohrads'kyj rajon
District in Ukraine
Contents:

Population

The population development of Krasnohrads'kyj rajon as well as related information and services (Wikipedia, Google, images).
Source: State Statistics Committee of Ukraine (web), pop-stat.mashke.org, Federal State Statistics Service Russia (web).
Explanation: The Autonomous Republic of Crimea and Sevastopol were annexed by Russia in March 2014. This new status is not internationally recognised. Parts of Donetsk oblast and of Luhansk oblast are not under control of the central government; their 2021 population were calculated by the Ukrainian statistical office "according to the available administrative data".
---
Further information about the population structure:
Gender (E 2021)
Males
50,191
Females
56,517
Age Groups (E 2021)
0-17 years
19,529
18-64 years
68,885
65+ years
18,294
Urbanization (E 2021)
Rural
67,115
Urban
38,833
---