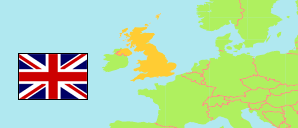 Caerleon
Community in Wales
Contents:

Population

The population development of Caerleon as well as related information and services (Wikipedia, Google, images).
Source: UK Office for National Statistics (web).
Explanation: Communities as at December 2019. All population and corresponding area figures of communities are based on assigning output areas by using population-weighted centroids. Thus, slight discrepancies are possible compared to the actual community boundaries that are depicted in the map. No population figures (and the actual area) are provided for communities smaller than output areas.
---
Further information about the population structure:
Gender (E 2019)
Males
3,766
Females
4,015
Age Groups (E 2019)
0-17 years
1,435
18-64 years
4,346
65+ years
2,000
Age Distribution (E 2019)
0-9 years
834
10-19 years
695
20-29 years
647
30-39 years
754
40-49 years
978
50-59 years
1,288
60-69 years
1,079
70-79 years
942
80+ years
564
Passport (C 2011)
UK
6,858
Republic of Ireland
11
EU (other)
79
other passport
120
no passport
1,035
Country of Birth (C 2011)
UK
7,712
Republic of Ireland
21
EU (other)
114
Other country
214
Ethnic Group (C 2011)
White
7,808
Asian
109
Black
61
Arab
5
Mixed/multiple
75
Other ethnic group
3
Religion (C 2011)
Christian
5,301
Muslim
58
Hindu
15
Sikh
10
Jewish
2
Buddhist
19
Other religion
26
No religion
2,105
---