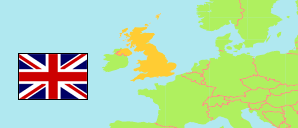 Bournemouth, Christchurch and Poole
Unparished Area in South West England
Contents:

Population

The population development of Bournemouth, Christchurch and Poole as well as related information and services (Wikipedia, Google, images).
Name
Status
Population
Census
2001-04-29
Population
Census
2011-03-27
Population
Estimate
2020-06-30

Bournemouth, Christchurch and Poole

Unparished Area
301,623
330,997
346,307
South West England
Region
4,928,434
5,288,935
5,659,143
Source: UK Office for National Statistics (web).
Explanation: Parishes as at December 2020. All population and corresponding area figures of parishes are based on assigning output areas by using population-weighted centroids. Thus, slight discrepancies are possible compared to the actual parish boundaries that are depicted in the map. No population figures (and the actual area) are provided for parishes smaller than output areas.
---
Further information about the population structure:
Gender (E 2020)
Males
173,191
Females
173,116
Age Groups (E 2020)
0-17 years
67,439
18-64 years
207,938
65+ years
70,930
Age Distribution (E 2020)
0-9 years
37,999
10-19 years
38,170
20-29 years
45,310
30-39 years
44,543
40-49 years
43,995
50-59 years
46,305
60-69 years
36,785
70-79 years
31,950
80+ years
21,455
Passport (C 2011)
UK
253,720
Republic of Ireland
1,680
EU (other)
14,385
other passport
12,276
no passport
52,190
Country of Birth (C 2011)
UK
291,507
Republic of Ireland
1,799
EU (other)
15,933
Other country
21,758
Ethnic Group (C 2011)
White
310,185
Asian
10,342
Black
2,284
Arab
820
Mixed/multiple
6,103
Other ethnic group
1,263
Religion (C 2011)
Christian
193,987
Muslim
4,299
Hindu
1,803
Sikh
235
Jewish
1,747
Buddhist
1,753
Other religion
1,933
No religion
99,787
---