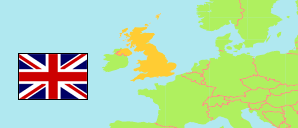 City of Bristol
Unitary District in South West England
Contents:

Subdivision

The population development in City of Bristol as well as related information and services (Wikipedia, Google, images).
Name
Status
Population
Census
2001-04-29
Population
Census
2011-03-27
Population
Estimate
2017-06-30

City of Bristol

Unitary District
380,615
428,234
463,405

City of Bristol

Unitary District
380,616
428,234
459,252
→
South West England
Region
4,928,434
5,288,935
5,559,316
Source: UK Office for National Statistics (web).
Explanation: Districts in 2019 boundaries and parishes as at December 2017. All population and corresponding area figures of parishes are based on assigning output areas by using population-weighted centroids. Thus, slight discrepancies are possible compared to the actual parish boundaries that are depicted in the map. No population figures are provided for parishes smaller than output areas.
---
Further information about the population structure:
Gender (E 2017)
Males
229,953
Females
229,299
Age Groups (E 2017)
0-17 years
93,960
18-64 years
305,463
65+ years
59,829
Age Distribution (E 2017)
0-9 years
57,941
10-19 years
49,762
20-29 years
99,387
30-39 years
72,944
40-49 years
52,799
50-59 years
47,787
60-69 years
35,965
70-79 years
25,262
80+ years
17,405
Passport (C 2011)
UK
320,052
Republic of Ireland
3,057
EU (other)
20,061
other passport
19,712
no passport
70,722
Country of Birth (C 2011)
UK
365,108
Republic of Ireland
2,900
EU (other)
19,686
Other country
40,540
Ethnic Group (C 2011)
White
359,592
Asian
23,655
Black
25,734
Arab
1,272
Mixed/multiple
15,438
Other ethnic group
2,543
Religion (C 2011)
Christian
200,254
Muslim
22,016
Hindu
2,712
Sikh
2,133
Jewish
777
Buddhist
2,549
Other religion
2,793
No religion
160,218
---