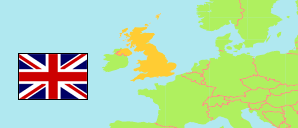 Clydebank
(United Kingdom)
Contents:

Locality

The population development of Clydebank as well as related information and services (weather, Wikipedia, Google, images).
Source: National Records of Scotland (web).
Explanation: Localities according to the definition of 2016. 2001, 2011 and 2019 figures are approximate values calculated by »City Population« using the population of output areas or data zones.
---
Further information about the population structure:
Gender (E 2016)
Males
12,498
Females
13,822
Age Groups (E 2016)
0-15 years
4,616
16-64 years
16,914
65+ years
4,790
Age Distribution (E 2016)
0-9 years
2,972
10-19 years
2,830
20-29 years
3,557
30-39 years
3,222
40-49 years
3,486
50-59 years
3,936
60-69 years
2,930
70-79 years
2,019
80+ years
1,368
Nationality (C 2011)
British only
26,108
British and other
33
Other only
603
Country of Birth (C 2011)
Scotland
24,845
UK (other)
837
EU
605
Other country
457
Ethnic Group (C 2011)
White
26,250
Asian
315
Mixed/multiple
63
Other ethnic group
116
Religion (C 2011)
Church of Scotland
6,609
Roman Catholic
9,610
Christian (other)
691
Muslim
110
Other religion
152
No religion
7,655
Language at Home (C 2011)
English
24,893
Gaelic
32
Scots
150
British Sign Language
72
Polish
204
Other language
438
---