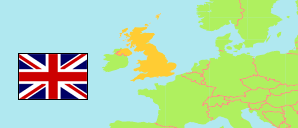 Wheelton and Withnell
Ward in North West England
Contents:

Population

The population development of Wheelton and Withnell as well as related information and services (Wikipedia, Google, images).

Source: UK Office for National Statistics (web).

Explanation: Wards as at December 2018. All area and population figures of wards are based on output areas. Thus, slight discrepancies are possible compared to the actual ward boundaries that are depicted in the map.
---
Further information about the population structure:
Gender (E 2018)
Males
2,010
Females
2,107
Age Groups (E 2018)
0-17 years
825
18-64 years
2,442
65+ years
850
Age Distribution (E 2018)
0-9 years
448
10-19 years
441
20-29 years
373
30-39 years
412
40-49 years
610
50-59 years
680
60-69 years
590
70-79 years
396
80+ years
167
Passport (C 2011)
UK
3,494
Republic of Ireland
14
EU (other)
15
other passport
36
no passport
574
Country of Birth (C 2011)
UK
4,001
Republic of Ireland
14
EU (other)
32
Other country
64
Ethnic Group (C 2011)
White
4,042
Asian
34
Black
5
Mixed/multiple
25
Other ethnic group
5
Religion (C 2011)
Christian
3,129
Muslim
8
Hindu
8
Jewish
1
Buddhist
8
Other religion
17
No religion
705
---