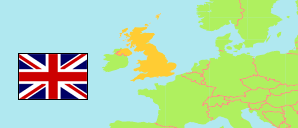 Liverpool
Metropolitan Borough in North West England
Contents:

Subdivision

The population development in Liverpool as well as related information and services (Wikipedia, Google, images).
Name
Status
Population
Census
2001-04-29
Population
Census
2011-03-27
Population
Estimate
2018-06-30

Liverpool

Metropolitan Borough
439,473
466,415
494,814

Liverpool

Metropolitan Borough
439,480
466,415
494,814
→
North West England
Region
6,729,764
7,052,177
7,292,093
Source: UK Office for National Statistics (web).
Explanation: Parishes as at December 2018. All population and corresponding area figures of parishes are based on assigning output areas by using population-weighted centroids. Thus, slight discrepancies are possible compared to the actual parish boundaries that are depicted in the map. No population figures are provided for parishes smaller than output areas.
---
Further information about the population structure:
Gender (E 2018)
Males
246,709
Females
248,105
Age Groups (E 2018)
0-17 years
94,902
18-64 years
327,304
65+ years
72,608
Age Distribution (E 2018)
0-9 years
57,233
10-19 years
54,685
20-29 years
99,111
30-39 years
71,694
40-49 years
55,096
50-59 years
59,221
60-69 years
46,755
70-79 years
31,426
80+ years
19,593
Passport (C 2011)
UK
355,741
Republic of Ireland
4,797
EU (other)
10,041
other passport
17,237
no passport
81,374
Country of Birth (C 2011)
UK
420,290
Republic of Ireland
3,294
EU (other)
10,607
Other country
32,224
Ethnic Group (C 2011)
White
414,671
Asian
19,403
Black
12,308
Arab
5,629
Mixed/multiple
11,756
Other ethnic group
2,648
Religion (C 2011)
Christian
331,217
Muslim
15,209
Hindu
2,437
Sikh
531
Jewish
2,157
Buddhist
2,017
Other religion
1,122
No religion
82,701
---