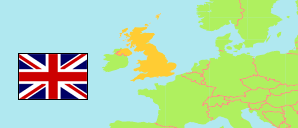 Salford
Metropolitan Borough in North West England
Contents:

Subdivision

The population development in Salford as well as related information and services (Wikipedia, Google, images).
Name
Status
Population
Census
2001-04-29
Population
Census
2011-03-27
Population
Estimate
2018-06-30

Salford

Metropolitan Borough
216,103
233,933
254,408

Salford

Metropolitan Borough
216,100
233,933
254,408
→
North West England
Region
6,729,764
7,052,177
7,292,093
Source: UK Office for National Statistics (web).
Explanation: Parishes as at December 2018. All population and corresponding area figures of parishes are based on assigning output areas by using population-weighted centroids. Thus, slight discrepancies are possible compared to the actual parish boundaries that are depicted in the map. No population figures are provided for parishes smaller than output areas.
---
Further information about the population structure:
Gender (E 2018)
Males
128,381
Females
126,027
Age Groups (E 2018)
0-17 years
56,566
18-64 years
161,422
65+ years
36,420
Age Distribution (E 2018)
0-9 years
34,359
10-19 years
28,468
20-29 years
42,080
30-39 years
41,300
40-49 years
29,752
50-59 years
30,374
60-69 years
21,998
70-79 years
16,419
80+ years
9,658
Passport (C 2011)
UK
171,929
Republic of Ireland
1,988
EU (other)
8,894
other passport
8,999
no passport
43,668
Country of Birth (C 2011)
UK
206,471
Republic of Ireland
2,485
EU (other)
8,853
Other country
16,124
Ethnic Group (C 2011)
White
210,862
Asian
9,429
Black
6,541
Arab
1,425
Mixed/multiple
4,616
Other ethnic group
1,060
Religion (C 2011)
Christian
150,111
Muslim
6,030
Hindu
1,504
Sikh
324
Jewish
7,687
Buddhist
1,040
Other religion
691
No religion
52,105
---