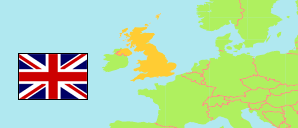 Middlesbrough
Unitary District in North East England
Contents:

Subdivision

The population development in Middlesbrough as well as related information and services (Wikipedia, Google, images).
Name
Status
Population
Census
2001-04-29
Population
Census
2011-03-27
Population
Estimate
2018-06-30

Middlesbrough

Unitary District
134,855
138,412
140,545

Middlesbrough

Unparished Area
128,935
132,303
134,033
→

Nunthorpe

Parish
4,705
4,866
4,907
→

Stainton and Thornton

Parish
1,217
1,243
1,605
→
North East England
Region
2,515,442
2,596,886
2,657,909
Source: UK Office for National Statistics (web).
Explanation: Parishes as at December 2018. All population and corresponding area figures of parishes are based on assigning output areas by using population-weighted centroids. Thus, slight discrepancies are possible compared to the actual parish boundaries that are depicted in the map. No population figures are provided for parishes smaller than output areas.
---
Further information about the population structure:
Gender (E 2018)
Males
69,436
Females
71,109
Age Groups (E 2018)
0-17 years
32,513
18-64 years
85,265
65+ years
22,767
Age Distribution (E 2018)
0-9 years
19,263
10-19 years
16,932
20-29 years
22,648
30-39 years
17,486
40-49 years
15,521
50-59 years
17,997
60-69 years
14,521
70-79 years
10,015
80+ years
6,162
Passport (C 2011)
UK
101,304
Republic of Ireland
369
EU (other)
1,936
other passport
4,114
no passport
31,289
Country of Birth (C 2011)
UK
127,042
Republic of Ireland
439
EU (other)
2,350
Other country
8,581
Ethnic Group (C 2011)
White
122,055
Asian
10,768
Black
1,731
Arab
950
Mixed/multiple
2,362
Other ethnic group
546
Religion (C 2011)
Christian
87,511
Muslim
9,757
Hindu
591
Sikh
564
Jewish
45
Buddhist
370
Other religion
246
No religion
30,797
---