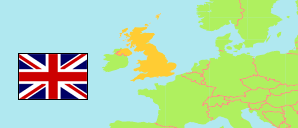 Tower Hamlets
Borough in London
Contents:

Subdivision

The population development in Tower Hamlets as well as related information and services (Wikipedia, Google, images).
Name
Status
Population
Census
2001-04-29
Population
Census
2011-03-27
Population
Estimate
2019-06-30

Tower Hamlets

Borough
196,106
254,096
324,745

Tower Hamlets

Borough
196,100
254,096
324,745
→
London
Region
7,172,091
8,173,941
8,961,989
Source: UK Office for National Statistics (web).
Explanation: Parishes as at December 2019. All population and corresponding area figures of parishes are based on assigning output areas by using population-weighted centroids. Thus, slight discrepancies are possible compared to the actual parish boundaries that are depicted in the map. No population figures (and the actual area) are provided for parishes smaller than output areas.
---
Further information about the population structure:
Gender (E 2019)
Males
169,215
Females
155,530
Age Groups (E 2019)
0-17 years
72,290
18-64 years
231,596
65+ years
20,859
Age Distribution (E 2019)
0-9 years
43,575
10-19 years
36,050
20-29 years
68,685
30-39 years
76,914
40-49 years
42,656
50-59 years
26,638
60-69 years
16,514
70-79 years
8,464
80+ years
5,249
Passport (C 2011)
UK
176,531
Republic of Ireland
3,401
EU (other)
24,440
other passport
39,787
no passport
16,790
Country of Birth (C 2011)
UK
144,662
Republic of Ireland
2,862
EU (other)
22,435
Other country
84,137
Ethnic Group (C 2011)
White
114,819
Asian
104,501
Black
18,629
Arab
2,573
Mixed/multiple
10,360
Other ethnic group
3,214
Religion (C 2011)
Christian
68,808
Muslim
87,696
Hindu
4,200
Sikh
821
Jewish
1,283
Buddhist
2,726
Other religion
825
No religion
48,648
---