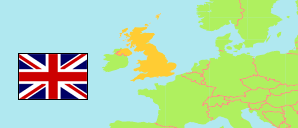 Hounslow
Borough in London
Contents:

Subdivision

The population development in Hounslow as well as related information and services (Wikipedia, Google, images).
Name
Status
Population
Census
2001-04-29
Population
Census
2011-03-27
Population
Estimate
2017-06-30

Hounslow

Borough
212,341
253,957
270,782

Hounslow

Borough
212,340
253,957
269,100
→
London
Region
7,172,091
8,173,941
8,825,001
Source: UK Office for National Statistics (web).
Explanation: Districts and parishes as at December 2017. All population and corresponding area figures of parishes are based on assigning output areas by using population-weighted centroids. Thus, slight discrepancies are possible compared to the actual parish boundaries that are depicted in the map. No population figures are provided for parishes smaller than output areas.
---
Further information about the population structure:
Gender (E 2017)
Males
136,548
Females
132,552
Age Groups (E 2017)
0-17 years
63,928
18-64 years
173,402
65+ years
31,770
Age Distribution (E 2017)
0-9 years
40,108
10-19 years
29,460
20-29 years
36,800
30-39 years
49,082
40-49 years
38,738
50-59 years
31,194
60-69 years
22,061
70-79 years
13,583
80+ years
8,074
Passport (C 2011)
UK
170,386
Republic of Ireland
4,229
EU (other)
26,204
other passport
38,563
no passport
20,703
Country of Birth (C 2011)
UK
144,044
Republic of Ireland
3,643
EU (other)
22,633
Other country
83,637
Ethnic Group (C 2011)
White
130,505
Asian
87,257
Black
16,813
Arab
3,638
Mixed/multiple
10,349
Other ethnic group
5,395
Religion (C 2011)
Christian
106,660
Muslim
35,666
Hindu
26,261
Sikh
22,749
Jewish
651
Buddhist
3,617
Other religion
1,540
No religion
40,351
---