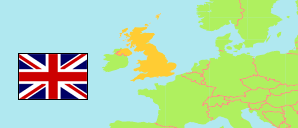 Croydon
Borough in London
Contents:

Subdivision

The population development in Croydon as well as related information and services (Wikipedia, Google, images).
Name
Status
Population
Census
2001-04-29
Population
Census
2011-03-27
Population
Estimate
2017-06-30

Croydon

Borough
330,587
363,378
385,346

Croydon

Borough
330,590
363,378
384,837
→
London
Region
7,172,091
8,173,941
8,825,001
Source: UK Office for National Statistics (web).
Explanation: Districts and parishes as at December 2017. All population and corresponding area figures of parishes are based on assigning output areas by using population-weighted centroids. Thus, slight discrepancies are possible compared to the actual parish boundaries that are depicted in the map. No population figures are provided for parishes smaller than output areas.
---
Further information about the population structure:
Gender (E 2017)
Males
186,919
Females
197,918
Age Groups (E 2017)
0-17 years
94,775
18-64 years
238,678
65+ years
51,384
Age Distribution (E 2017)
0-9 years
56,179
10-19 years
46,806
20-29 years
46,938
30-39 years
59,662
40-49 years
53,565
50-59 years
51,832
60-69 years
33,731
70-79 years
21,792
80+ years
14,332
Passport (C 2011)
UK
272,981
Republic of Ireland
4,268
EU (other)
20,621
other passport
35,279
no passport
37,777
Country of Birth (C 2011)
UK
255,894
Republic of Ireland
4,055
EU (other)
18,399
Other country
85,030
Ethnic Group (C 2011)
White
200,195
Asian
59,627
Black
73,256
Arab
1,701
Mixed/multiple
23,895
Other ethnic group
4,704
Religion (C 2011)
Christian
205,022
Muslim
29,513
Hindu
21,739
Sikh
1,450
Jewish
709
Buddhist
2,381
Other religion
2,153
No religion
72,654
---