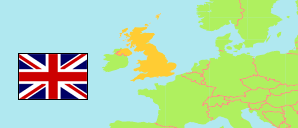 Brent
Borough in London
Contents:

Subdivision

The population development in Brent as well as related information and services (Wikipedia, Google, images).
Name
Status
Population
Census
2001-04-29
Population
Census
2011-03-27
Population
Estimate
2019-06-30

Brent

Borough
263,464
311,215
329,771

Brent

Borough
263,457
311,215
329,771
→
London
Region
7,172,091
8,173,941
8,961,989
Source: UK Office for National Statistics (web).
Explanation: Parishes as at December 2019. All population and corresponding area figures of parishes are based on assigning output areas by using population-weighted centroids. Thus, slight discrepancies are possible compared to the actual parish boundaries that are depicted in the map. No population figures (and the actual area) are provided for parishes smaller than output areas.
---
Further information about the population structure:
Gender (E 2019)
Males
168,277
Females
161,494
Age Groups (E 2019)
0-17 years
77,687
18-64 years
210,996
65+ years
41,088
Age Distribution (E 2019)
0-9 years
46,787
10-19 years
38,377
20-29 years
47,658
30-39 years
55,510
40-49 years
44,082
50-59 years
39,844
60-69 years
29,022
70-79 years
17,184
80+ years
11,307
Passport (C 2011)
UK
202,334
Republic of Ireland
10,496
EU (other)
43,608
other passport
47,652
no passport
15,798
Country of Birth (C 2011)
UK
139,788
Republic of Ireland
8,874
EU (other)
35,649
Other country
126,904
Ethnic Group (C 2011)
White
112,880
Asian
105,986
Black
58,632
Arab
11,430
Mixed/multiple
15,775
Other ethnic group
6,512
Religion (C 2011)
Christian
129,080
Muslim
58,036
Hindu
55,449
Sikh
1,709
Jewish
4,357
Buddhist
4,300
Other religion
3,768
No religion
33,054
---