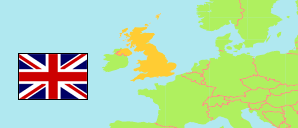 Barnet
Borough in London
Contents:

Subdivision

The population development in Barnet as well as related information and services (Wikipedia, Google, images).
Name
Status
Population
Census
2001-04-29
Population
Census
2011-03-27
Population
Estimate
2019-06-30

Barnet

Borough
314,564
356,386
395,869

Barnet

Borough
314,568
356,386
395,869
→
London
Region
7,172,091
8,173,941
8,961,989
Source: UK Office for National Statistics (web).
Explanation: Parishes as at December 2019. All population and corresponding area figures of parishes are based on assigning output areas by using population-weighted centroids. Thus, slight discrepancies are possible compared to the actual parish boundaries that are depicted in the map. No population figures (and the actual area) are provided for parishes smaller than output areas.
---
Further information about the population structure:
Gender (E 2019)
Males
196,542
Females
199,327
Age Groups (E 2019)
0-17 years
93,672
18-64 years
244,893
65+ years
57,304
Age Distribution (E 2019)
0-9 years
54,057
10-19 years
46,991
20-29 years
49,889
30-39 years
63,722
40-49 years
56,899
50-59 years
48,415
60-69 years
34,290
70-79 years
24,696
80+ years
16,910
Passport (C 2011)
UK
260,916
Republic of Ireland
7,377
EU (other)
37,706
other passport
46,024
no passport
19,813
Country of Birth (C 2011)
UK
217,890
Republic of Ireland
6,020
EU (other)
37,143
Other country
95,333
Ethnic Group (C 2011)
White
228,553
Asian
65,918
Black
27,431
Arab
5,210
Mixed/multiple
17,169
Other ethnic group
12,105
Religion (C 2011)
Christian
146,866
Muslim
36,744
Hindu
21,924
Sikh
1,269
Jewish
54,084
Buddhist
4,521
Other religion
3,764
No religion
57,297
---